Well, it's
done
.
My unit has been
sold
and I've now moved into my new home. Stuff is in boxes
everywhere
, but I did manage to get the most important room done nicely. My lounge is all rigged up quite nicely with the surround
stereo
, the
PC
(with
DVD
and remote), the
telly
and
VCR
and all my
consoles
. We celebrated the move on Saturday night curled around my new
Shrek
DVD. :) We'll be moving things from their boxes to their new places little by little through the week.
On Friday night,
Braden
, Scotty and my bad self went on down to the
Yahoo Bar
to catch
Bodyjar
. They well and truly rocked the place. My neck and shoulders are still a bit sore from the
thrashing
. I managed to pilfer a
set-list
which was taped to the stage after the show. I'll scan it in later and put it here.
My
bucks night
is this Saturday. I'm looking forward to it. A lot of people can't make it unfortunately, but at least the party won't be so big that I don't get to spent quality time with the
mates
. We're starting off at
Flannigans
, but after that I don't quite know what's happening. I'll just go with the flow I guess.
Other than that, weddingy plans are tying themselves up (well, more accurately, we've been tying them up, and
Gracie's
been
swearing
at them). Also, while I'm really looking forward to the honeymoon, the organising of it is going far from smoothly.
I'll fill you in more on everything later as it eventuates.
| | |
| --- | --- |
| Posted by a very adventurous MadDog on Monday November 19, 2001 at 3:25 PM - 0 comments | |
| | |
| --- | --- |
| Posted by a very sneezy MadDog on Monday November 5, 2001 at 2:54 PM - 0 comments | |
| | |
| --- | --- |
| Posted by a very ashamed MadDog on Friday November 2, 2001 at 12:59 PM - 0 comments | |
Now for a Planet MadDog Music Update.
First of all, am I the only one who finds that "Because I Got High" song by Afroman so entirely unfunny that it reaches never before seen levels of unfunniness? How could such a song reach this level of popularity? Have we all suddenly become a planet of Scary-Movie-loving, Adam-Sandler-worshiping, fart-joking, drug-taking, dumb-asses? Not on my clock, baby. Take a look at yourselves people. Look at what you're pissing yourselves over. Is your intellect that starved for stimulation that you find yourself amused by such mindless brain-waste? I suppose I should be happy that people are actually amused by anything at all these days. And I suppose you could also say "Hang on, aren't you that guy that cracks up when he sees his distorted reflection in the bottom of his coffee mug?" Each to their own I guess. Small things amuse small minds, but the smallest things are often the best.
A song that is groovin' my goolies at the moment is "Starlight" by the Supermen Lovers. Even better than the song itself is the video clip, featuring some bizzare computer generated mutant potato-human hybrid and his little mouse-like friend in their quest to release a hit single. If you havent seen it, I hereby order you to sit in front of your television this Saturday morning and watch Video Hits until it comes on! Alternatively, if you use KaZaA Search, theres a cool DivX version of it floating around, weighing in at around 13MB.
Finally, theres the new Britney Spears song, "Slave 4 U"...
... Well, that just makes me want to have sex with her.
Okay, I think I've crapped on for long enough. If you disagree with anything I've said here, I'd love to hear your thoughts. Email me.
| | |
| --- | --- |
| Posted by a very mellow MadDog on Tuesday October 23, 2001 at 2:54 PM - 0 comments | |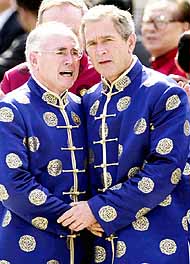 | | |
| --- | --- |
| Howard | "Hold me George... I'm frightened!" |
| Bush | "It's okay. Everything will be all right Jeff, err, Jed... what's your name again?" |
This photo appeared on the front page of today's
Herald-Sun
, and when I saw it, I couldnt stop giggling. It shows our illustrious
Prime Minister
,
John Howard
, enjoying a bit of a snuggle with "world leader"
George Dubya
.
With
federal elections
around the corner, I wonder who's side the Herald-Sun is on...
| | |
| --- | --- |
| Posted by a very amused MadDog on Monday October 22, 2001 at 10:21 AM - 0 comments | |
Well, we do!
Braden
just called me to let me know we've gotten
TWO MORE GIGS!! WOOHOOO!!!Friday November 9 - Flannigans!
Friday November 16 - Hotel Australia!
I hope everything goes cool at the Aussie, because there'll be a heap of people there, and the Aussie are known for scrutinising new and upcoming bands for professionalism and excellence. Anyway... be sure to
be there
!
| | |
| --- | --- |
| Posted by a very ecstatic MadDog on Wednesday October 17, 2001 at 5:15 PM - 0 comments | |
I've just added
Brian "Loony" Gilbert
to my almost-glacial-in-its-sheer-speed-of-expansion
Friends of Dog
section.
Loony's also done a pretty groovy website called
Reality Loop
. It has a pretty funky
navigation
and a custom made
Cold Fusion backend
. Check it out one time, won't you.
| | |
| --- | --- |
| Posted by a very dandy MadDog on Wednesday October 17, 2001 at 3:04 AM - 0 comments | |
Slap me and slap me
hard
for not updating the site in over 13 days. I've been a bad...
bad
... boy... *ahem* ...but I digress, so here's an update.
Sphagnum rock! We certainly do. Sphagnum played its first paying (over $50) gig on Friday night at the local Irish pub, Flannigans, and it was a buzz and a half. We had a song list of about 58 songs to go through, but there was no danger of us running out of music. We even skipped a couple of songs, just to keep the moment happening. On behalf of Braden, Scotty and myself, I'd like to thank everyone who came for attending and showing their support, even if it was only for a little bit (Thanks Dad!). The Flannigans dude said we were great and he got some good feedback from people at the bar. We should definately get another gig there. The only bit of constructive criticism he had was that during "Smells Like Teen Spirit", Scotty was a bit loud, and he was absolutely right. We always go right off for that one. Before this gig we had another one (which I also forgot to report on) at the GV Hotel in front of a crowd of about 250 people. It was a charity cocktail party called "Shimmers", so we didn't get paid for it, but we got a lot of good publicity out of it (Thanks Leanne) and we had a ball.
My new job's going pretty good. I'm not nearly as scared as I was. I've attended umpteen meetings outlining exactly what we want to achieve and what my role will be. The targets are quite realistic so it's very reassuring. Right now though, I'm feeling a bit under the weather. I swear, I better not be getting a cold/flu (#4 for the year), because if I am, I'll be forced to... umm... err... I dont know... drink Lemsip or something...
Oh, and if you do really slap me, look out!
| | |
| --- | --- |
| Posted by a very sneezy MadDog on Tuesday October 9, 2001 at 1:51 PM - 0 comments | |
"i'd just like to mention how dissapointed by the fact that many a time have i been on the search for the fran dresher porn that ppl speak of, and nekkid pictures of sophie monk... and all i ever get is sucked into going to your page... and its all lies... you have no porn and nekkidness to speak of what so ever, and i think you should rectify the situation.

luv zen"
For you, zenny?
Anything
...
| | |
| --- | --- |
| Posted by a very horny MadDog on Wednesday September 26, 2001 at 4 PM - 0 comments | |
Just a quick note. If, like at least
8 people per day
, you come across
Planet MadDog
in your search for
Fran Drescher Porno
please be advised that
you
are a
tool
, and it does
NOT
exist. The porn of which you seek is either fake or a look-a-like, but regardless, it's not here, so you got
SUCKED IN
!! HAA!! But still, it
IS
getting me a lot of hits, so who am I to complain? And now that it's on my site
AGAIN
in this post's title, I should soon be raking in the hits. Oh, and while I'm
gratuitiosly
spamming the search engines, sex sex umm... sex... britney... free boobies! There.
| | |
| --- | --- |
| Posted by a very blank MadDog on Monday September 24, 2001 at 2:37 PM - 1 comments | |
Pages: 1 | 2 | 3 | 4 | 5 | 6 | 7 | 8 | 9 | 10 | 11 | 12 | 13 | 14 | 15 | 16 | 17 | 18 | 19 | 20 | 21 | 22 | 23 | 24