Am the only one that updates their webcam at any regular frequency? Have a look at zenny's cam portal and you'll find a collection of people, fine people, yet fairly inanimate people displaying the same webcam pics they were this time last week, or even last month. (In all fairness, the only reason zenny hasnt updated her pic, is because they took her lamp away... but who are they? Aliens? Government agencies? The men in the white coats?) Anybody else out there with a webcam that I don't know about? Let me know, I'd love to see it.
Also email me if you know of any other cool webcam portals I should be part of. Now that Planet MadDog is on a decent server, I should start advertising it.
In other news, Planet MadDog V2 is coming along nicely, with really only the back-end getting any development done on it. I've also nearly caught up on all the crazy conversations, ready for the launch of the new site. I've decided to hold off all major updates to the site (dont worry, I've still got plans for a few good updates in the meantime) until V2 is ready. Once launched, you all should have plenty to do and explore around the site. I'll keep you posted.
| | |
| --- | --- |
| Posted by a very vacant MadDog on Thursday March 14, 2002 at 11:11 PM - 0 comments | |
PLANET MADDOG SEARCH RANKINGS
Yep, you sickos have been searching for god-knows-what and ending up here. Here are my top 5 favorite ways to find Planet MadDog through the search engines, as recorded in my referrer logs.
| | |
| --- | --- |
| Posted by a very proud MadDog on Wednesday March 6, 2002 at 3:41 PM - 0 comments | |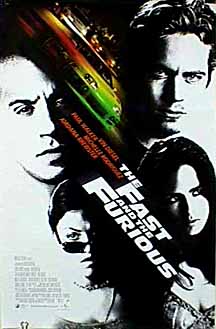 Who's a goddamn winner? I'll tell you who...
ME!!! BWAHAHAH!!!
*does a smeggin' little dance around the office*
*ahem*
Right... Now I guess I should tell you what that was all about. I was just notified that I am one of 15 winners in
DVDUsergroup's
Fast and the Furious
Competition. My fantastic prize consists of a Fast and the Furious DVD, key ring and a set of dog-tags (how appropriate).
w00t w00t!
| | |
| --- | --- |
| Posted by a very elated MadDog on Wednesday March 6, 2002 at 10:58 AM - 0 comments | |
I went to
Melbourne
on the weekend. First I went to see a guy who was selling his
Philips 21"
monitor on the
Computer Trader
for $400. Being in the market for a new monitor myself, I thought this was too good to pass up so I paid him a little visit. It looked pretty good. It gets a little fuzzed when the contrast is too high, but after a bit of tweaking and fiddling with contrast and colour settings you can get it looking pretty
snazzy
, and definately worth the $400. It even goes up to 1600x1280. The only problem is that its so freakin' huge I dont know where to put it. I might have to get a new desk.
In other news, I also went to see Mamma Mia at the Princess Theatre. I've gotta say, that if you're a chick, or into chick flicks, and can bear listning to ABBA for 2 hours, then you'll absolutely love this show! Unfortunately, I am neither of those things. The music is what makes the show. The storyline is somewhat bland, so much so that if you took out the singing, you'd be left with a massively overacted sitcom that would last about 20 minutes. If you'd like to know the storyline, then
CLICK HERE
but be warned, cause it does contain spoilers. Overall, the show was well done but for it to appeal to me it needs the following:
wise-cracking zombies
explosions
frontal nudity
breakdancing midgets
live poultry, and
some kind of giant squid monster.
| | |
| --- | --- |
| Posted by a very pooped MadDog on Tuesday March 5, 2002 at 10:57 AM - 0 comments | |
As of now, Planet MadDog is living on the wonderful
Genis-X
server maintained by none other than
AdStar
. I keep such company as
Monaux.com
,
Sphere
,
Puglet
,
Besmella.Quake
,
Everything LAN
, and
Untitled Document
. A big thanks goes to
AdStar
for giving me the power to finally advertise my site without it getting massively hammered and restricting even myself from its soft, fruity filling. AdStar gets a cool little linky button on Planet MadDog for his troubles... as soon as I find a place to put it.
| | |
| --- | --- |
| Posted by a very pleased MadDog on Tuesday February 26, 2002 at 4:33 PM - 0 comments | |
I just had this overwhelming urge to update
Planet MadDog
, but have come to the stark realisation that I have nothing to say. So, I think I'll just say what's on my mind.
One man
can
have too much Banana Smoothie.
If you have a copy of the 2002 Melbourne Yellow Pages L-Z Please email me now. If you have access to a scanner, even
better
!
PlanetMadDog.com V2
is
coming, I assure you.
Oh, and if you can get me a 19" monitor for around $400 email me too. The bodgy old one I was borrowing from work has carked it. Please dont make me go back to 15", pleeeease... I dont think I can handle it...
is a way cool colour.
Shakira
, in addition to having a
hot little bod
, also has quite a unique and enjoyable voice... AND I just learned that she fully writes and produces her own work. Awesome to see some real talent instead of the usual cookie-cutter crap record companies keep churning out.
Mortal Kombat: Deadly Alliance
looks positively chock-full of asswhoopy goodness.
Ummm... I think that's adequate for an update...
| | |
| --- | --- |
| Posted by a very uninspired MadDog on Monday February 25, 2002 at 3:13 PM - 0 comments | |
Happy Valentine's Day!
Love Mikey
| | |
| --- | --- |
| Posted by a very romantic MadDog on Thursday February 14, 2002 at 2:28 PM - 0 comments | |
| | |
| --- | --- |
| Posted by a very tickled pink MadDog on Thursday February 14, 2002 at 12:07 PM - 0 comments | |
I got married once. I was only 4 and she was a much older woman at 5. It didn't work out. We had such different lives. I was all about the sandpit and she was all Barbie this and Ken that...

In the end I didn't know who she was. All I knew was I wanted her juice box but not the responsibility that came along with it.

*sigh*
| | |
| --- | --- |
| Posted by a very carefree MadDog on Wednesday January 30, 2002 at 2:45 PM - 0 comments | |
Due to lack of other information out there on the web, it seems my humble website has become somewhat a hub of information about
Crownstar International
. Thats fine by me, and since the last mention of it has slipped off into the news archives, I thought I'd post this little update.
Well at this point I'm still in discussions with the
Banking Ombudsman
to get them to get my bank to fulfill their obligations concerning the credit card transaction, as this must first be done before I take this to the courts in any way. I'm
really
starting to have my doubts about seeing any of this money again, but I'm not giving up.
If you've been affected by this (dis)organisation,
send an email my way
and let me know how youre getting on with getting your money back.
| | |
| --- | --- |
| Posted by a very vengeful MadDog on Wednesday January 30, 2002 at 9:27 AM - 0 comments | |
Pages: 1 | 2 | 3 | 4 | 5 | 6 | 7 | 8 | 9 | 10 | 11 | 12 | 13 | 14 | 15 | 16 | 17 | 18 | 19 | 20 | 21 | 22 | 23 | 24