Well folks, that
butterfly
you may have seen yesterday when trying to access the site, was
Genis-X
, Planet MadDog's most gracious host. I had to be moved across to
another server
for some reason, so until I got the
DNS
stuff all sorted out at this end, that was the result. So for those who need their daily Planet MadDog fix (you sick
SICK
people) here you are.
| | |
| --- | --- |
| Posted by a very zonked MadDog on Wednesday November 6, 2002 at 9:41 AM - 0 comments | |
I just found myself watching an episode of Ally McBeal tonight. Yes, dear friends, as strange as this concept sounds, what happened next is even stranger. I found myself enjoying it. I enjoyed the wacky daydreaming. I enjoyed the touching messages. I enjoyed the awkward situations. Jon Bon Jovi as token love interest? Not so enjoyable, but still adequate.
At the end of the episode, right after I checked that I actually still had testicles (yep, everything's still there, ladies), I felt myself looking forward to the next one. Is this normal? Are there other guys that enjoy this estrogen-soaked show? I mean apart from Braden, because hey, he watches the Gilmour Girls.
Here's what's been hippity-hop-happening with me lately, just in case you were interested.
After having my MP3 player stolen from my car, and collecting the resulting insurance cheque, I've splurged out a bit of extra dough and treated myself to one of these little beauties. The IRiver IMP-250 is about 20 times better than the turdpile that came before it. It plays WMA and ASF as well as MP3, it runs over 15 hours on one pair of AA nickel metal hydride rechargable batteries (included), its got a kick-ass little backlit EL screen on the unit as well as a smaller versio on the remote control so you can see and choose the songs easily, which is also helpe by the simple song navigation system. I know that there are higher models, like the SlimX, but I really wanted the LCD display goodness that this offered. Highly recommended.
Sphagnum rocked Euroa Wool Week on Sunday. It may have been just a small pro-bono gig with only one set, but the sound was set up nicely, the drums and vocals were crisp and we played well, getting some good feedback.
Music that's rocking my internals at the moment: Our Lady Peace - Gravity, Avril Lavigne - Let Go, The cast of Buffy - Once More With Feeling, John Mayer - Room for Squares, Bodyjar - Plastic Skies.
Umm... I think that's about it.
| | |
| --- | --- |
| Posted by a very sleepy MadDog on Monday November 4, 2002 at 10:31 PM - 0 comments | |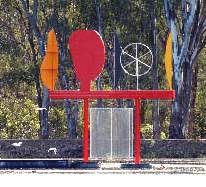 Many Sheppartonians have recently commented on the new addition to the Victoria Park Lake here in Shepparton, a $130,000 sculpture erected to celebrate the contribution business and industry have made to the region.
Some people think that it's strong and dynamic. Some have said it's great to see our local council supporting the arts. Most people, however, say its a tacky eye-sore plaguing our fine lake.
I say we could have done much better...
TOP 10 THINGS BETTER THAN OUR NEW SCULPTURE
A 50 foot lavendar statue of Richard Simmons.
A Mount Rushmore inspired monument featuring the faces of Killing Heidi, except made entirely of meat.
An animatronic statue of Jackie Chan, complete with kung-fu grip.
One of those "big" things, like The Big Pineapple or The Big Banana. I suggest The Big Paperclip.
A large mural depicting the rise and fall of Vanilla Ice.
An interactive museum where kids can discover the wonderful properties of napalm.
The worlds biggest jelly pit.
A giant monkey in a clear plastic ball that can be rolled down the street on special occasions.
Two words: Giant boobs.
When I was a kid I was often told to make the most of my
childhood
because once I'm out in the
real
world, it's all downhill...
I wonder if
this
is
what
they
meant
.
Recently I've actually been affected by a
gut-twisting
event that has made me feel sick to the stomach, and whilst I wont go into it here, I'm almost at the point where going to live in a remote cave somewhere doesnt seem like such a bad idea (as long as the cave had electricity). I don't feel safe anymore, and I fear for the safety of the people I care about, and I think it's going to get worse before it gets better. Oh, and
sorry
for the bummed out attitude lately. This was more of a therapeutic release than an amusing annecdote. I belive its not good for the soul to stay in this sort of mood for too long so I'll pick up the mood a bit next time... I
promise
.
Just a quick update to let you know that the lack of updates lately is due mainly to my being
sick
most of the last week. I've been pretty
zonked
for the last 6 days or so with a fever running hot and cold simultaneously. Unfortunately, as well as affecting Planet MadDog updates, it's also adversly affected my already busy timeline of other work going on, including v1.0 release of
MadSite
,
OzChat_Remix
,
Aeli.net
, and other paying jobs with tight schedules and deadlines, so I've got my work cut out for me in the coming weeks.
| | |
| --- | --- |
| Posted by a very feverish MadDog on Monday October 21, 2002 at 11:10 AM - 0 comments | |
So, you see, my car was broken into last night while still in my driveway. The little bastard stole my MP3 player from my glove compartment. Left the door ajar too, he did, so the light was left on, and now my car battery is flat as a tack (although I've found most tacks to be pointy). Method of entry: he smashed the little trianglular window at the back (aww, wasn't it considerate of him to only smash the smallest of my windows when invading and stealing my property?).
But I am no stranger to theft. The night of my 21st birthday the same thing happened, but replace "MP3 player" with "Discman" and "little triangle window" with "front passenger window". About a 2 years prior to that, the same thing happened, but no windows were broken. What is it exactly about a busted-ass 1984 Toyota Tercel that just screams out to theives? I mean WTF is that about?!?
Anyway, I've reported the incident to the police for insurance purposes, and bought a car battery charger to get back on the road, so I'm not going too bad, just a bit cheesed s'all.
It doesn't help that there's no
chocolate
in the house.
| | |
| --- | --- |
| Posted by a very pissed off MadDog on Monday October 7, 2002 at 8:30 PM - 0 comments | |
TOP 10 SONG TITLES MADE MORE AMUSING BY REPLACING THE WORD 'ARMS' OR 'HEART' WITH THE WORD 'ASS'
With Arms Wide Open - Creed
Open Up Your Heart - M People
Hold Me In Your Arms - Jack Jones/Southern Sons
Dont Go Breaking My Heart - Elton John
Total Eclipse of the Heart - Bonnie Tyler
Music Of My Heart - N'Sync
Throw Your Arms Around Me - Hunters and Collectors
Shape Of My Heart - Backstreet Boys
Tryin' To Throw Your Arms Around The World - U2
Always In My Heart - Tevin Campbell
| | |
| --- | --- |
| Posted by a very bootylicious MadDog on Tuesday October 1, 2002 at 3:09 PM - 0 comments | |
Yup, I've joined my first big webcam portal (well there was
zenny's
, and as great as that is, it not really huge), the
Penny Arcade Webcam Portal
and already I've engaged in some
hyjinx
. This is gonna be
fun
.
| | |
| --- | --- |
| Posted by a very playful MadDog on Wednesday September 25, 2002 at 12:20 PM - 0 comments | |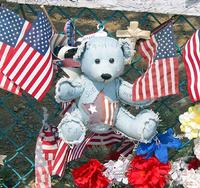 I'm facinated by most of the documentaries surrounding the events of Sept 11, especially the story on Jim Waley's Sunday program last week where they followed the story of the President's morning as he tried to make sense of what was happening, and Channel Nine's doco last night following NYC Mayor Rudy Giuliani and how he handled the crisis.
I also like the reflection on the thousands of lives lost, showing the very human side of the incident. People standing on the streets at Ground Zero, holding aloft pictures of their lost loved ones. It hurts to see these images, and hear wives talk of their lost firefigting husbands, but I think it really does help reinforce the scope of what really happened, especially when we live so far away. When all we see is television images of the collapsing towers, its sometimes hard to imagine the horror of the events of one year ago.
What I dont approve of is tonights re-enactmant/fabrication of Flight 93's take-over and descent. It violently and unnecessarily tries to show what was going on inside the 4th hijacked plane before it went down and serves nothing but to further twist the knife for family and friends of the victims.
It reaks of martyrdom, and while it's nice to believe that these people fought valiantly aganst their captors, it hasn't convinced me that they weren't just passengers who were on the wrong plane at the wrong time, and that it was their efforts that caused the crash. If you were in a position of military power, and two of your country's most prominent landmarks have just been demolished or severely damaged in a terrorist attack, and a fourth hijacked plane has veered off-course, headed towards the President's military base, what would your course of action be?
Anyway, these are just my thoughts and hold no real value in the general scheme of things, so it's your own perogative if you choose to disagree with me or support me, just dont forget what happened.
| | |
| --- | --- |
| Posted by a very reflective MadDog on Wednesday September 11, 2002 at 9:56 AM - 0 comments | |
Pages: 1 | 2 | 3 | 4 | 5 | 6 | 7 | 8 | 9 | 10 | 11 | 12 | 13 | 14 | 15 | 16 | 17 | 18 | 19 | 20 | 21 | 22 | 23 | 24