| | |
| --- | --- |
| Posted by a very spooky MadDog on Monday September 2, 2002 at 9:24 PM - 0 comments | |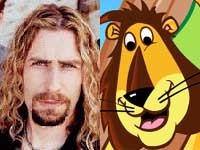 It has been observed by many that
Nickelback
front-man,
Chad Kroeger
, strikes an uncanny resemblance to
Paddle Pop Lion
. This, along with the startling fact that the two have never been seen in the same room together can only mean two possible things.
Chad Kroeger and Paddle Pop Lion are identical twins, separated at birth in an attempt to keep the two from joining forces, becoming an unstoppable power in the seedy underworld of rock music/ice cream related organised crime.
Chad Kroeger and Paddle Pop Lion are in-fact one and the same, living an amazing double life. For when Chad eats a banana Paddle Pop, an amazing transformation occurs. Chad is Paddle Pop Lion, ever alert for the call to action when someone steals all the Paddle Pops.
Let me know if you come across any other celebrity look-alikes.
| | |
| --- | --- |
| Posted by a very contemplative MadDog on Wednesday August 28, 2002 at 3:45 PM - 1 comments | |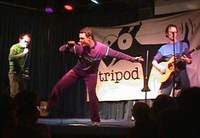 Gatesy
,
Scod
and
Yon
. Three random words I've just plucked from the ether? No. Aliens from another planet? Perhaps. These three form
Tripod
, one of the greatest stand-up acts I've had the pleasure to attend. These guys love to entertain, and to perhaps a greater extent, they love music.
The sound of three wonderful voices in three-part harmonies and one accoustic guitar (oh, and a trumpet) filled the
Prince Patrick
in Collingwood on Saturday night, as they do every Friday and Saturday night through August as part of Tripod's
'Pod August Nights II'
show.
If I were to liken the trio to any other act, I would probably draw similarities to the
Doug Anthony All Stars
, but with better harmonies, less vulgarity, and coloured shirts. They sing songs of trivial matters such as mucus, word prefixes, and body parts, and do it all as if it was the first time. Some comedian's look like they're a bit tired of telling the same jokes over and over, but Tripod make it look like they're having the time of their life. Highly recommended.
| | |
| --- | --- |
| Posted by a very happy MadDog on Wednesday August 21, 2002 at 12:01 PM - 1 comments | |
Back in the day (circa Grade 1 or 2), I used to have my own club. The Omega Club we were called, proabably named after one of my favourite Vic 20 games, Omega Race.

We had about 5 or 6 members who paid 20 cents to me at the beginning of the term which went straight into a piggy bank. I had a little clipboard with names on it that I would tick off each lunchtime, then... errr... I guess we'd just kinda hang out. At the end of the term, I'd break out the piggy bank, spend it all on mixed lollies and divide it up amongst the memebers.

Yeah, I guess it was pretty lame, but at the time we thought we were pretty clever.
| | |
| --- | --- |
| Posted by a very reminiscent MadDog on Wednesday July 31, 2002 at 3:22 PM - 0 comments | |
The premiere of
Celebrity Big Brother
started last night. I had already written this show off before it began, although I think I may have been a little hasty in my judgement. I still don't think it will be much hat, but I'm willing to give it a go and time will tell. Here's a run-down of the third-rate celebs in the house.
Anthony Mundeen - This rugby-come-boxing champ is a bit of a wildcard I think. He really stands out like dogs balls against the other flamboyant housemates, especially the she-male, Vanessa Wagner, whom I can see that Anthony is really trying hard to get along with, although I'm sure he wouldn't under ordinary circumstances.
Vanessa Wagner - Alterego of performer Tobin Saunders is really a bit of a mixed bag. We're getting two people/genders in one which I think will make for some good interaction and interesting conversation.
Kimberly Cooper - Kimberly played Gypsy on Home and Away. I never watch Home and Away, so that's about all I know about her. She seems paretty interesting though; a bit of fun. She stayed up with Kyle to watch the sun rise on the first night, so I can imagine that they'll get along pretty well.
Kyle Sandilands - Being on metro radio, I don't know a lot about him or his radio show with Jackie O, the Hot 30.com Countdown. Although we do get a condensed snippet of the show on the weekends here, and he sounds like a pretty cool kinda bloke. Being a DJ, I'm sure he'll be able to keep conversation going in the house.
Adriana Xenides - Oh my God. I'd heard that she'd had a little bit of plastic surgery, but I didn't know that she'd turned into Zsa Zsa Gabor! Appearance and non-descript accent aside, the lovely Adriana who made her celebrity status by spinning the letters on Wheel of Fortune for eighteen goddamn years, seems a bit of a princess, so I don't know how she'll get a long with the likes of Mundeen and Dylan Lewis.
Dylan Lewis - Former "Recovery" host and overall quirky TV presenter, Dylan was great to watch last night. He barely said a word yet managed to steal the show with some well timed crazy faces and general apathy towards his situation. I'm not sure how he will get along with the others, but for Dylan, I don't think that's the point.
Imogen Bailey - I'm sure she's quite intellegent, and like she said last night, she's probably worked very had to become the super-sexy model that she is today, but I couldn't help but feel indifferent towards people who become famous for simply being hot. Not that I'm complaining. Hang on a sec. Yes, I AM complaining! Whats the goddamn good of having 16th-sexiest-woman-in-the-world, Imogen Bailey, in the Big Brother house when there's no camera's in the showers? Huh? Yeah... Thought so.
Sara-Marie Fedele - Now this is just stupid. The only thing more useless then being in Celebrity Big Brother for being a super sexy model, is being in Celebrity Big Brother because the only reason you ARE a celebrity is because you were in Big Brother. To me, that just kind of defeats the purpose. Nuff said.
Well, there's your eight "celebrities". I don't think this show will have as many viewers as regular BB, but it is for charity, and it might prove to be a bit of fun in the end, so I'm not complaining just yet.
| | |
| --- | --- |
| Posted by a very skeptical MadDog on Tuesday July 2, 2002 at 1:54 PM - 0 comments | |
Everybody's probably tried this at one stage in their lives, but I remember way back when I was a pup, I used to muck around in the kitchen when Mum and Dad weren't home and I'd mix a whole bunch of shit together in an attempt to invent a new drink, a drink that would ultimately become the GREATEST DRINK IN THE WORLD!

I'd start with some orange juice, then a bit of red cordial. After adding a little bit of strawberry Quik, I'd stir in some Milo and finally a bit of toothpaste to give it a kick...

Then came the taste test.

After vomiting, I'd vow never to do it again... until curiosity got the better of me once more.
| | |
| --- | --- |
| Posted by a very mischievous MadDog on Monday June 24, 2002 at 11:15 PM - 0 comments | |
I don't normally like to link to cool sites and stuff, preferring rather to give you people stuff you cant get anywhere else on the 'Net, but I found this humourous enough to warrant sharing with the masses.
| | |
| --- | --- |
| Posted by a very bemused MadDog on Tuesday June 18, 2002 at 2:36 PM - 0 comments | |
A conversation had with
Braden
during lunch with him today:
Braden:
Happy Days? Yeah I remember this one episode where... umm... Chachi, yeah, Chachi... she was going out with The Fonz... errmm...
Mikey:
*shakes head*
Braden:
No, wait... Chachi was going out with... ummm... Cheech?
Mikey:
Dude... Chachi was Scott Baio... You're just dribbling shit, aren't you?
Braden:
Yeah, umm... shut up. I meant Joanie... Yeah... Joanie was going out with The Fonz and umm... errr... ahhh...

Well anyway, it was funny because Fonzie said AAAAAAYYYYY"...
Some of you may remember a few years back when I got my hands on the Gameboy SDK and wrote a little game called
SuperDog
. Well, I've recently ported this technological break-though to the
Windows
platform. If you think youre hard enough, you can download a copy of it below, but be warned, it's an extremely
tough
game to beat. I've even heard comments of people being driven to the brink of madness from its sheer complexity. You have been warned.
Download my great game, SuperDog, here!
(40 KB)
| | |
| --- | --- |
| Posted by a very accomplished MadDog on Thursday May 30, 2002 at 3:08 PM - 0 comments | |
Pages: 1 | 2 | 3 | 4 | 5 | 6 | 7 | 8 | 9 | 10 | 11 | 12 | 13 | 14 | 15 | 16 | 17 | 18 | 19 | 20 | 21 | 22 | 23 | 24