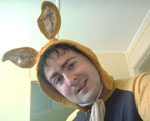 (That's french by the way)
Yep, its googie time again. We had easter at our place this year with a bunch of 26-odd mad Italian people joining us for a BBQ lunch and/or a sit-down dinner. Everything went swimmingly with all the cleaning and stuff all week paying off.
We even had a visit from the
real
Easter Bunny! (pictured right)
In other news, April Fools day sucks. I hate foolishly getting my hopes up over things that
just
aren't
true
.